A game about counting cats' shapes and colours, that keeps getting trickier. 2nd edition
£

7.50
Sold out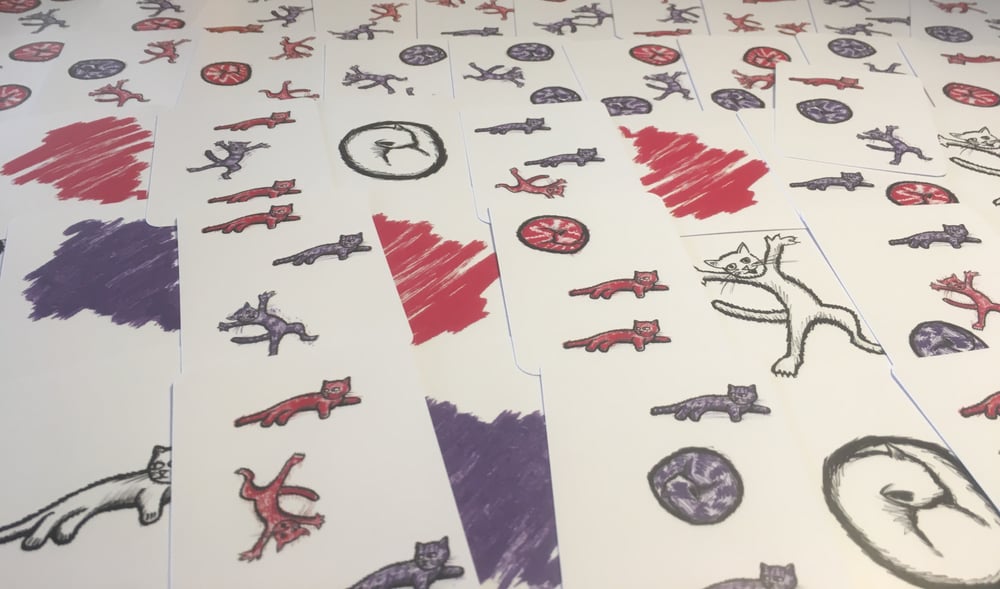 Each turn, someone flips over a card!
Card backs show uncoloured cats, or scribbled colours. Fronts show 3 cats, coloured in red or purple.
The newly-revealed back tells you what shape(s) or colour to count. First to yell the number and slap the card wins that card, or loses everything if they were wrong.
Each card you win is more cats to count!
First to 5 cards wins!
Normally, the first slapper becomes the flipper for the next round and cannot compete. In the 2-player variants, players take turns flipping a card from the deck and they can both compete.
The main restriction for the upper playercount is the number of players able to reach the flipped card to slap it.
https://boardgamegeek.com/boardgame/362023/game-about-counting-cats-shapes-and-colours-keeps
The first edition featured two colours, three shapes, and you sometimes needed to count two shapes at once. The 2nd edition will only ask you to count one thing at a time. The 2nd edition also has a 3rd colour.
NOTE:
This is a BEZZY BUDGET BAG. Do not expect luxurious component quality. Expect a silly thing that I tried to do with the minimum amount of effort. Having said that, the typeface is a custome thing drawn by me (Bez) and assembled by Krys. I'm quite proud of it.
- There is NO BOX. Just the cards in a resealable plastic bag.
- The rules are on the backs of the front/back 'covers' and another card, to keep prices low.
- the game hasn't gone through as much testing as I'd like. I'm very proud of the game but another year of testing would undoubtedly see a number or two tweaked. Also, the graphics could be improved.
- Nothing is perfect. Bezzy Budget Bags are a way to remind myself to just get stuff done.
On the good side:
- simple rules (easy to learn)
- the catchup mechanism lets players of different skills play together
- helps children practise counting
- naturally tricky even for adults
- the sudden loss of cards adds tension
Postage:
£3 UK regardless of quantity.
£5 elsewhere, and £2 extra for each game.
Buy more stuff to save money on shipping.
I will also be selling this at the major UK cons, so feel free to buy in person to avoid shipment charges. Or to try before you buy.
I post things out once a week, on a Wednesday or Thursday.